WE OFFER MODERN AND COMPLETE WINTER STORAGE
When you leave your boat for winter storage, the next boat season starts. Choose from our various full service packages and get back onto sea quickly when the spring sun comes out.
At Saltö Marin we have developed packages for the boat owner who want to make sure that the boat is ready early in the spring without having to worry about or spend time on the boat during the winter.
Call us and we will tell you more about a carefree winter storage with full service.
FAST HANDLING OUTDOORS
As we lift your boat from the port, we have efficient handling of the preservation work so that the boat is quickly secured in the boat hall. All moments that take place outdoors, such as motor service, mastering, hull and bottom washing, follow a routine that ensures that your boat's time outdoors is minimized.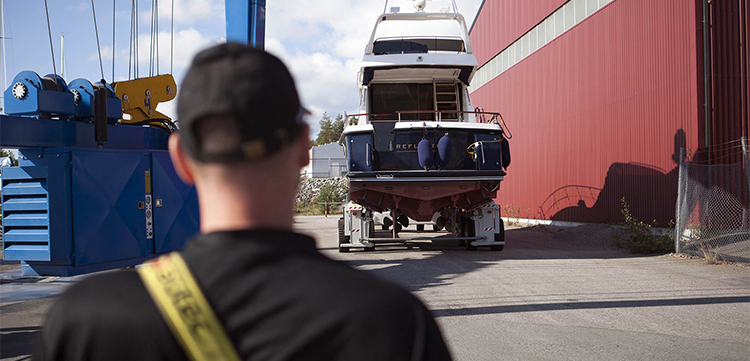 SAFE AND SECURED STORAGE IN HEATED HALL
In our thermal halls of a total of 3 500 m2, we keep in a controlled climate with respect to temperature and humidity. Here you can store your boat during winter and be sure to avoid frost damage and mould growth.
The boat halls have protection with fire and theft alarm. The buildings have a modern design dimensioned to cope with great snow loads and heavy winds. All personal access to the hall is limited, to minimize the risk of unauthorized access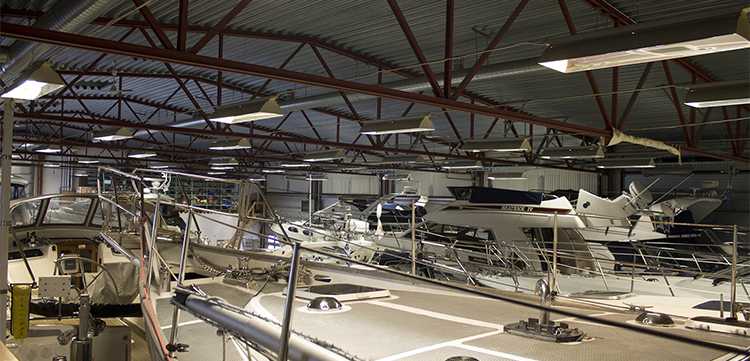 STORAGE OUTDOORS AND IN COLD HALL
We can also offer outdoor storage and in the cold hall. If you wish to store your sailing boat, you can store it at ours within fences and without having to rig the mast.
OTHER STORAGE
With us you can also store your summer car, motorcycle, motorhome etc.



HOW MUCH IS IT?
This is included in the price:

Lifting
Bottom washing
Motor conservation
Storage in heated hall/cold hall/outdoor
Pallet including pallet material
Maintenance charge
Docking + 5 days mooring
Startup engines, oil check
External wash


HIRE INCLUDING THE ABOVE WORK
ONLY RENT. WORK IS NOT INCLUDED

VAT is included in the above prices. Other additional work is offered separately.